Live chat session from space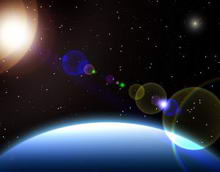 The high school students of Riverside Preparatory Academy in Oro Grande, California experienced a completely different chat session for the first time in their life. They had the opportunity to chat live with the crew members of the international space station and the session went on live directly from the space. The 20 minute session was organized on August 15, at 10:40 a.m. PDT. Representatives from news media were also invited for the live session in which students were allowed to interact with the members of the space station for asking their doubts on various space missions, importance of space study, exploration of space etc.
The session paved way for the students to explore space far better than any other sources. According to the sources in NASA, the live chat session is one part of the series of various education programs as planned by the organization for incorporating "Teaching from Space" program to the students of the country. This will also ensure that the educational institutions in the country improve their methods of science, technology, engineering and mathematics (STEM) teaching and learning. Karen Nyberg and Chris Cassidy are the two crew members who presided over the live chat session.
The students were interested in querying about the possibilities of life in space and components of travelling in space etc. NASA has also planned to strengthen the workforce of their team members and including many new members. The organization will also take steps to engage many Americans in the mission along with school and college students. Hence many education programs are being organized now and then for the students and general public for raising awareness about the space missions and the work of NASA.