Tropical storm gabrielle heads back out to sea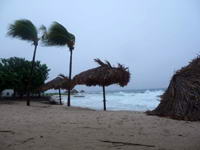 Tropical Storm Gabrielle headed out to sea Saturday after a drenching, daylong passage across the Florida peninsula that at its peak left a half-million homes and businesses in the dark.
Nearly 350,000 homes and businesses remained without power Saturday afternoon. Utilities said they expected to have most service restored late Saturday night.
At 5 p.m. EDT, Gabrielle was 175 miles east-northeast of Daytona Beach and was heading northeast at 15 mph. Winds were sustained near 50 mph, and most of the rainbands were offshore.
"It's holding its own; it's not getting any weaker," said Stacy Stewart, a hurricane specialist at the National Hurricane Center. "But other than some storm surge flooding, we don't see any threat to the United States mainland now that the system has moved off the Florida coast."
Gabrielle came ashore Friday morning with 70 mph winds. Several tornadoes caused some minor damage, and floating docks and sailboats broke lose and were damaged. More than 11 inches of rain fell in some areas.