Mars landing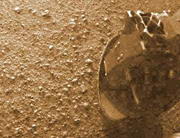 The landing of Curiosity in the Red planet Mars was the important landmark in the history of space and planets exploration. The landing of the spacecraft was telecasted on television channels and people were glued to their seats watching history being made. It has been one long year since this happened and people are still interested to know any information about the spacecraft.
The mission of Mars has paved way for various explorations that will keep the astronomers interested. The Curiosity has driven over one mile distance in the Martian terrain collecting samples for study. The primary goal of the Curiosity was to analyze the evidence that would substantiate the existence of environment that would have supported life. This primary goal has been accomplished within one year of landing and this is considered to be a major breakthrough in the history of space exploration.
The rover is on its way towards investigating Mount Sharp which will give astronomers better understanding of the layers present there along with information that will substantiate the history of mars. The rover has been very much active since its launch and it has sent more than 70, 000 images to the astronomers sitting here. The images include complete images and thumbnails that will help research.
The images and other data beamed back to the earth will come around 190 gigabits of data. The rover has also fired around 75,000 laser beams over 2000 targets. With much information on the pipeline, the Curiosity has already been a success when the complexity of the mission is considered. The landing of the rover in the planet is available in video format and can be obtained from NASA website.